MLBVOICE.COMW/MARY CLAUSEN
BASEBALL IS LIFE. THE REST IS JUST DETAILS! Talkin' Cardinals Baseball w/you since 2008
"Never permit the pressure to exceed the pleasure."
— JOE MADDON
BIRD POOP ON TUES, AUGUST 20
STL RECORD:  66-57 .537                                                   

FIRST PLACE! 

                                                                       7-GAME HOMESTAND TALLY 1-x                CARDINALS.COM GAME WRITE-UP – CLICK    MLB STANDINGS – CLICK
Click HERE for your Ticket Deals!
GAME ON!  TUESDAY MIL 0 VS STL 3
MICHAEL WACHA! WACHA! OPENS IN GAME 2. MIL VS STL 8/20/19 6:45 pm CDT. CLICK BUSCH STADIUM PREGAME. WATCH? FS-M. SEE ON THE RADIO? KMOX 1120 AM CRN. GAME 2 OF 3
GAME OVER!  MONDAY MIL VS STL: DAKOTA HUDSON, CARDS BULLPEN THROW 1-HIT SHUTOUT. CATCH THE EXCITING NIGHT BELOW:
HOUSEKEEPING: It was good to see JOSE MARTINEZ & TYLER O'NEILL in the dugout Monday. We missed you guys!
STL SKIPPER SHILDT TALKIN' BASEBALL: "He had more than done his job," Shildt said. "You don't get many of those [no-hit] scenarios, and you know it's a big accomplishment. But you also want to make sure you're taking care of the game as well. Then you want to take care of the player. We have a lot of season left."
ST. LOUIS — Our Cards had not faced MIL since the ten times we did in the first 24 games. It was a Brew Crew overload. Our record stands at 5-5.
Monday night's series opener was the first time to face the Brewer since late-April. What a night, guys! A near no-hitter and an exploding M!!
Dakota didn't even realize what was going on til he got into the dugout & heard it on a television broadcast. It was his first game with no-hit action since High School @ Sequatchie County (Tenn.)
"Guys were giving me hugs," Hudson said. "Usually I get a handshake, so I'm like, 'What's going on?'"
Dakota Hudson has experienced ups and downs. His 12 wins leads all rookies in baseball. In a bounce-back game against KC last week, Dakota looked very good. Monday was another level of very good. Silenced a powerful Brew Crew lineup. 
"I think he was commanding his stuff a little bit better tonight," Brewers infielder Mike Moustakas said. "He was throwing that sinker at 94, 95 [mph] — that was pretty dirty. And his secondary stuff was really good tonight, too."
The homer- happy sliding Bernie Brewer would not have been pleased. Oh well. . .
Hudson and our 'pen (Gallegos and Miller) combined for a one-hit game against a loaded Brewers lineup. Whoa! Christian Yelich didn't even get a hit through. His past against our Cardinals is scary-good. Eight homers and 19 RBIs in 10 games was walked twice. Think it was those unintentional intentional walks? Maybe. 
THE NL CENTRAL DIVISION. As predicted at the beginning of the season, the Central Division has been a five-team dog fight up and down the division. Cards took over first place (for today). 
Our offense stepped up! Paul DeJong's homer was hit into the Big Mac sign (you can see it stuck in the right side of left corner of the M).That's some steppin' up Paulie D! CLICK OUT HIS SHATTERING HOMER!
OPENED MONDAY

: DAKOTA HUDSON IP6.2/H0/R0/ER0/BB4/SO7/HR0/ERA3.63
STL USED 3 PITCHERS & MIL 3/9 INNINGS. TOTAL STL K'd: 8, TOTAL STL BB'd: 5: Hudson 6.2 (111-64), Gallegos 1.0 (16-3), Miller 1.1 (18-11)
STL HR ALLOWED:
BUMMED GALLEGOS ALLOWS THE ONE HIT. CLICK FOR THAT ACTION
DEJONG RECEIVED HIS ERROR.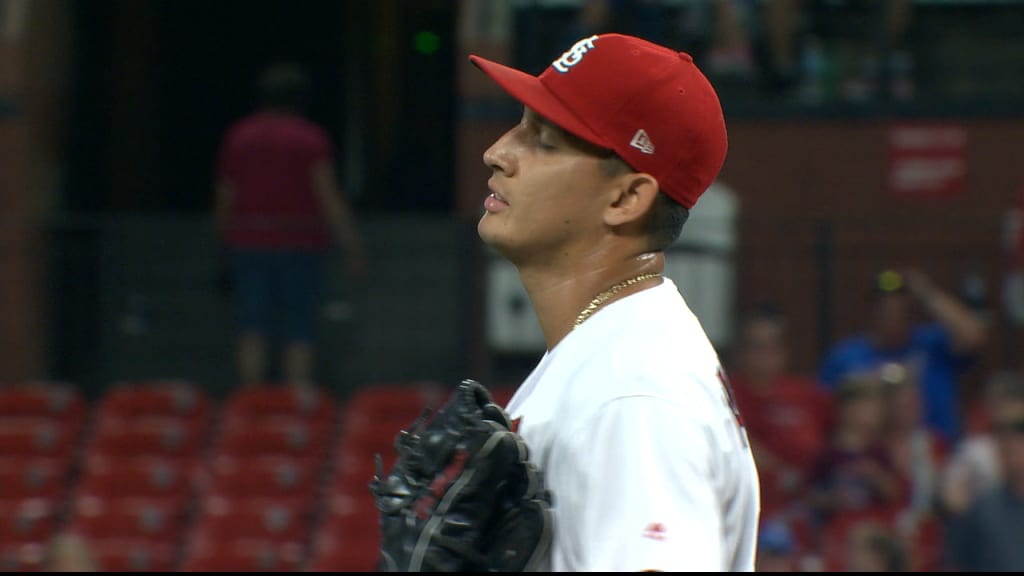 OFFENSE MONDAY: STL

RUNS SCORED:

1ST INNING -/2nd – /3rd  -/4th -/5th 2/6th 1/7th -/8th -/9th –     STL K'd 5 TIMES    BIRDS LEFT ON BAGS: 4  MIL LOB: 7   
RBIs/STL: DeJong (57), Fowler (45), Wong (45)
HR/STL: DeJong (22, 6th inning, 0 on)
DEFENSE MONDAY:

$100 CARDINALS CARE 2 DP's                            STL HIT INTO  1 DP's  STL MADE 1 E's DeJong (6, fielding)